Tailor-made: tai•lor-made (tā'lər-mād')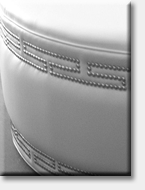 Perfectly fitted to a condition, preference, or purpose; made to order.
At Red Eight Workshop we believe that when you buy custom furniture it should be truly customized - not unlike custom made clothing. An exceptional tailor-made product more than meets a practical need; it is pleasing to the eye and intuitively comfortable - fitting the individual in size, proportion and intent. The result is furniture that is personalized and unique to the client and their lifestyle. Whether creating a piece to match a family heirloom, producing something never seen before or recreating a product that is unavailable to you in the fabrics or sizes you need Red Eight Workshop furniture exceeds your expectations.