Specialist: spe•cial•ist (spĕsh'ə-lĭst)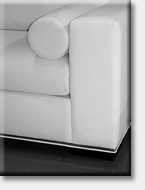 One who is devoted to a particular occupation or branch of study or research.
A passion for creating exceptional furniture and a vision to meet the demands of a distinct clientele lie at the heart of this unique company. Formed in 2002 the ownership of Red Eight Workshop has over 20 years of furniture manufacturing and design experience. Meeting the diverse product demands their clients present has resulted in the expansion of facilities, staff, skills, knowledge and experience with varied materials. In 2004 and 2005 Red Eight Workshop was a proud supplier to the Kid's Help Phone's Designer's Showcase and in 2006 were excited to be an Associate House Sponsor of the Alberta Ballet's Home and Garden tour.