Exceptional: ex•cep•tion•al (ĭk-sĕp'shə-nəl)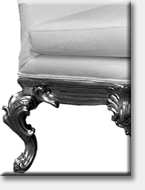 Well above average; extraordinary.
Red Eight Workshop means quality with distinction, unsurpassed customer service and the manufacturing of tailor-made, finely crafted furniture. Craftsmen who have worked together for over a quarter of a century make the employee team at Red Eight Workshop irreplaceable. It is their experience and knowledge of all types of furniture together with a commitment to focus on detail that makes Red Eight Workshop furniture exceptional. Solid hardwood frames, gleaming hand carved wood, meticulous upholstering and fine sewing result in truly fine furniture. Personal customer service from the design process through to delivery and follow up ensure value and total customer satisfaction.